Everyday we
engage. elevate. inspire.
photo of Martin Luther King, Jr. Park - Kansas City, MO
View Project
Landworks Studio


landscape architecture + planning
We are a creative and inspired team of landscape architects, planners, and graphic designers that strive to create memorable places that not only enhance the public realm, but empower communities. For over 20 years, our collaborative planning and design process has provided our clients with the tools they need to engage their communities through public space, strategic planning, and inclusive public engagement. With every line we draw, we aim to enhance the everyday, creating places where people enjoy spending time. Our award-winning leaders at Landworks Studio are involved every step of the way to ensure your success.
• Master Planning + Design
• Natural Resource Management
• Inclusive Community Engagement
• Community Planning
• Transportation + Streetscapes
• BMP & Green Infrastructure
• Signage + Wayfinding
• Strategic Planning
• Visioning + Branding
• Commercial + Mixed Use
• Multi-Family Housing
Landworks Studio excels at making meaningful connections with their clients and the communities in which they work in ways not typically seen in the private sector. The staff at Landworks Studio shares the values of community-centered design, encouraging meaningful public dialogue and truly listening to the needs of the client. The staff cares about high quality, yet with the focus always remaining on being accessible, listening to the client and being a partner in every sense of the word.
David D. Toland
Lt. Governor — State of Kansas
Project: Vision Iola Community Master Plan
Landworks studio has a great team that went above and beyond our expectations. They are visionaries, but at the same time remembering and incorporating your history.
Paul Bloomberg
Director of Parks and Recreation — Joplin, MO
Project: Joplin Parks and Recreation Roadmap 2021-2031
Landworks Studio imagined this extraordinary inclusive playground at Dr. Martin Luther King Jr. Park using components from the community meetings while considering our budget. Landworks is communicative, articulate, and imaginative. We look forward to working with Landworks again!
Christina Gunter
President of Gunter Construction — Kansas City, KS
Project: Martin Luther King, Jr. Park
I have worked with Landworks Studio on multiple master plan projects and have nothing but great respect for their work. Not only is the Landworks staff easy to work with, but accessible whenever needed. I would highly recommend Landworks Studio!
Jeff Stubblefield
Director of Parks and Recreation — Maryville, MO
Project: Imagine Maryville 2025
Landworks Studio was extremely helpful in designing an appropriate community engagement strategy that reflected the pandemic, which was important to us. Worked seamlessly with staff on all accounts.
Lance Onstott
Assistant City Administrator — Andover, KS
Project: Andover Parks and Recreation Playbook 2030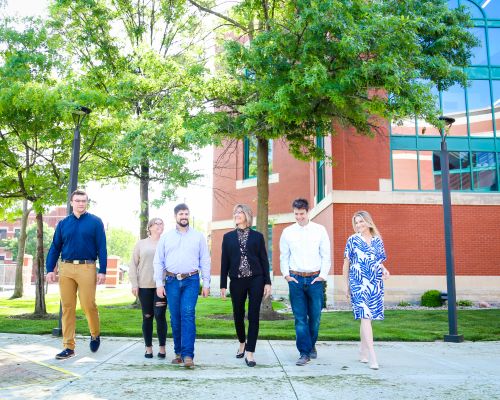 A Small Shop


with big ideas
As a landscape architecture and planning firm, we see each project as an opportunity to bridge the goals of our clients to the needs of those who live in the community. We understand that every project and client is unique, but fundamentally our goals to elevate the users' experience and provide opportunities for lasting memories are always present.
Meet the Team